UVC Sterilizing robot disinfection robot
stars, based on
( 0 )
reviews
The UVC sterilizing robot kills germs in the environment by decomposing
their DNA structures, thus preventing and reducing the spread of viruses, bacteria and other harmful microorganisms. This robot has two working modes:air circulating disinfection and steril- ization, and
UV disinfection and sterilization, and applies to a variety of complicated scenar- ios. It is able to move autonomously for timed, fixed-point
and multi-track mobile disinfec-tion and sterilization in large areas.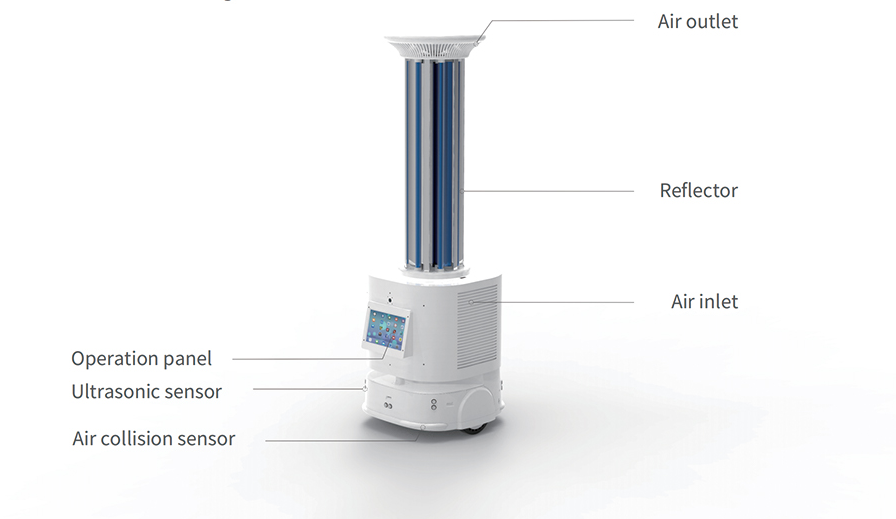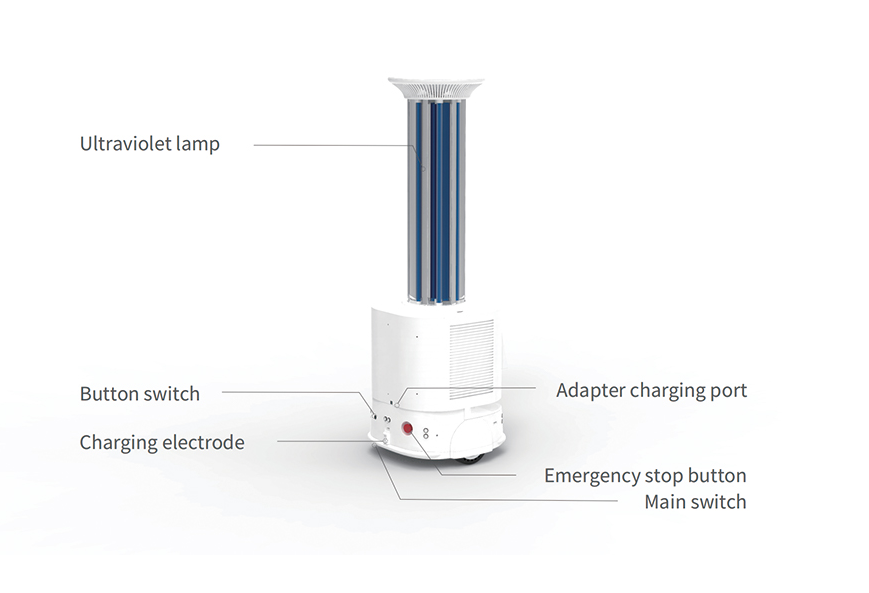 Strong disinfection and sterilization capacity
This robot has two working modes: air circulating disinfection and sterilization, and UV disinfection and sterilization.In the mode of UV disinfection andsterilization,
condensedultraviolet beams are emitted to kill bacteria and other harmful microorganisms, with a disinfection rate of 99.99%, which effectively prevents cross infection in high-risk areas
Large working space
The two working modes, i.e. air circulating disinfection and sterilization, and UV disinfection and sterilization, can efficiently guarantee the effect of disinfection and sterilization in areas. A large space can be fully covered in disinfection and sterilization using the chassis for autonomous movement
No harmful residue
No harmful residues are generated during operation in the modes of air circulating disinfection and sterilization, and UV disinfection and sterilization
Wide range of sterilization
The robot is capable of effectively killing microorganisms in the air, such as fungi, bacteria, and viruses, and has significant effects on harmful microorganisms in aerosols and the like. At the same time, PM2.5, formaldehyde, TOVC and other harmful substances in the air can be eliminated due to HEPA filtration
Unmanned operation
The robot features for autonomous operation and realizes timed, fixed-point and multi-track mobile disinfection and sterilization in a large space, according to the preset route and time requirements. It reduces the investment in human resources and helps promote the working efficiency and quality
Autonomous charging
The robot is capable of autonomous charging, continuous operation, low power early warning and automatic recharging, thus effectively ensuring the endurance of this mobile device
Autonomous navigation
The navigation solution integrating multiple sensors ensures accurate spatial positioning and dynamic path planning
Sterilization and disinfection
There are two disinfection methods of our robot: air circulation filtration and UV light. The disinfection efficiency could reach up to 99.99% under a specific exposure time
Smart obstacle
avoidance
Carry the latest lidar, ultrasonic sensor and air collision sensor to provide multiple protections and effectively deal with different complex environments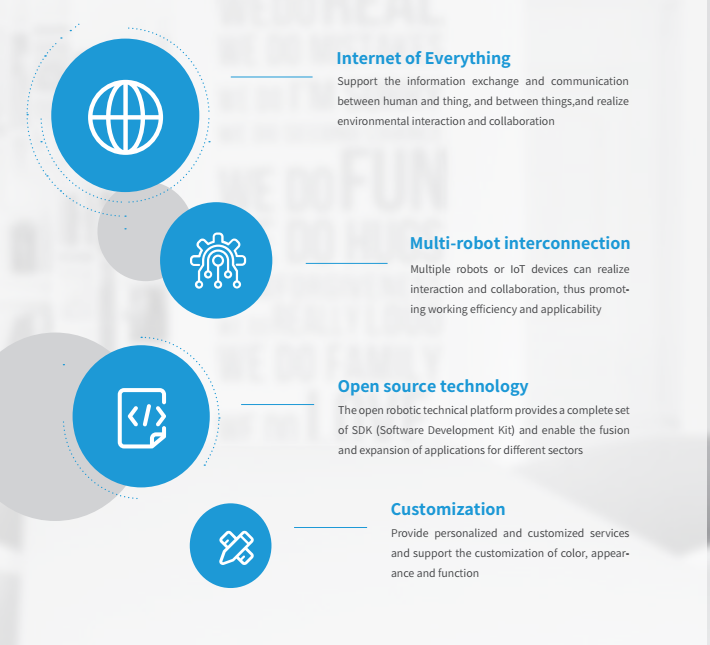 Technical Item

Technical Requirement

Appearance design

1. The shell is made of PC+ABS and stainless steel. It is antibacterial and easy to wipe

2. Dimensions: 540mm*580mm*1740mm

Hardware parameters

1. Processor: Intel® J1900 Quad-core 2.0Hz Chipset: Intel® Bay trail SOC chipset

2. Autonomous navigation: multi-sensor fusion navigation scheme based on at least 3 types of sensors (laser ray / speedometer / gyroscope)

3. Intelligent obstacle avoidance: The robot can flexibly avoid any obstacles. It is able to avoid any obstacles under low light condition

4. Motor torque: 8.1Nm (high load but low power consumption)

5. The chassis has a suspension system, which can stabilize the robot while it traverses a threshold

Operating parameters

1. Moving speed: 0.45m/s (in the navigation mode)

2. High-precision laser positioning, laser measuring precision: ±2cm

3. Turning performance: 360° zero-radius turning

4. Routine operating time: ≥ 4 hours

5. It achieves autonomous movement, autonomous navigation and smart obstacle avoidance

6. You can pause the robot while it is working. It can continue its mission after the pause mode is disabled

7. The robot is capable of controlling the automatic opening/closing of electric doors via the Internet of Things

8. The robot is compatible with the extension of elevator control solutions, achieving floor-to-floor operations in different areas

9. It does not need to rebuild the environment and add path and positioning marks. The robot realizes autonomous navigation in the whole process

11. The robot supports autonomous recharging. When the power is low, it returns for charging, thus ensuring continuous operation


Your cart is currently empty.